Galaxy Tab S3 9.7" (S Pen included), Black
S Pen
The revolutionary S Pen has true-to-life pressure and angle sensitivity with the intelligence to translate, magnify, navigate and create with a full pallete of brush and pen types. And just like a real pen, it never needs to be charged.
Detachable keyboard
Easily switch from touch to type with a featherlight keyboard that auto-pairs, attaches on contact and never needs charging.1
HDR-ready Super AMOLED display
Featuring High Dynamic Range on a Super AMOLED display, the Galaxy Tab S3 delivers cinematic vividness, detail and deep contrast to a screen that fits in your hands.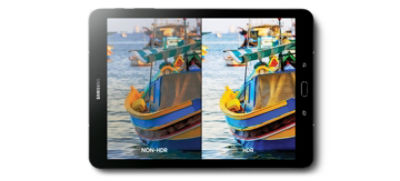 Sound that moves with you.
Quad speakers
Powerful Quad speakers, tuned by AKG, calibrate with your movements as you rotate the Galaxy Tab S3, and intuitively reflect what's playing on-screen.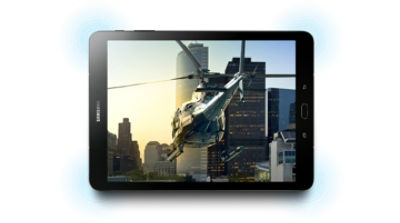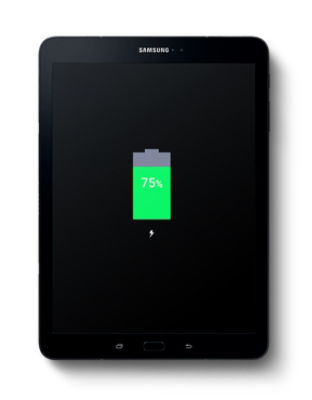 Lightning quick.
Groundbreaking charge speed powers you through up to 12 hours on a single charge. Then you can get back up to a full charge with three hours of Adaptive Fast Charging.2
See what else it can do.
Whether taking photos at a party or gaming on your commute, the Galaxy Tab S3 gives you the power to do it all.
Enhanced camera

Capture details on 13MP rear camera and use 5MP front camera for video chats.

Expandable memory

Store all your photos with built in 32GB³ of storage that expands up to an extra 256GB⁴.

Powerful processor

A Snapdragon 820 quad-core processor gives you more power and speed for gaming.

Samsung Flow

Share files wirelessly, get notifications, and even take calls from your tablet.⁵
Super AMOLED
HDR-ready Super AMOLED Display
Quad Speakers (DSL Type 1709 3.0t)
Up to 12 HRS on a single charge2
microSD up to 256GB
Expandable memory up to 256GB
36 User Reviews
"This is a great tablet. Thats fast with a beautifull amoled screen. The bright vivid colors are sensationnal. Plays graphic intensive games with ease. The s pen add a nice level of productivity to thi…"
mgod123 May 18, 2017
"The Galaxy Tab S3 has basically replaced my laptop. With all the easy to use features and apps, I can literally take my work with me anywhere."
RiseAgainst1220 May 11, 2017
Tablets: Model and Serial Number Location
For Kids: Making Your Samsung Galaxy Device Kid-Friendly
User Manual
Warranty
S Pen is more precise and pressure-responsive than ever, and never needs to be charged.
Featuring High Dynamic Range on a Super AMOLED display.
Super AMOLED
HDR-ready Super AMOLED Display
Included in box
S Pen included
Quad Speakers (DSL Type 1709 3.0t)
Quad Speakers
Up to 12 HRS on a single charge2